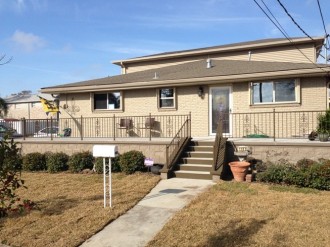 Delay in Flood Insurance Premium Increases Finally Passed
By Jordan Blum | The Advocate
theadvocate.com
WASHINGTON – The U.S. Senate gave final approval Thursday to an omnibus federal budget bill that also would delay flood insurance rate hikes until 2015 for some Louisiana homeowners.
The legislation will head to the desk of President Barack Obama, who already has announced his support.
The bill passed on a 72-26 vote with both Sens. Mary Landrieu, D-La., and David Vitter, R-La., backing it.
The $1.1 trillion spending bill keeps the federal government operating, while also providing a one-year rate relief for some Louisiana property owners covered by the National Flood Insurance Program.
The one-year delay specifically impacts the 32,000 or so policyholders in Louisiana — more nationwide — who had voluntarily bought flood insurance and were later drawn into maps outlining areas that could flood, thereby dramatically increasing the cost of the policies. The bill also delays the implementation of rate hikes for some being mapped into areas now considered to have greater flood risks.
The bill does not address other NFIP premium increases or the "trigger" that automatically raises the rates, sometimes dramatically, when a property sells, at least for homes and businesses sold after July 6, 2012.
Rep. Bill Cassidy, R-Baton Rouge, originally sponsored the flood insurance language that helps some policyholders for the short term. Landrieu, who is being challenged by Cassidy in her re-election bid, led the effort for relief in the U.S. Senate.
The NFIP has been in financial distress, with a loss of nearly $25 billion, largely due to payments made after hurricanes Katrina and Rita in 2005. Louisiana has nearly 500,000 flood insurance policies, and there are more than 5.5 million policyholders nationwide.
Congress in 2012 passed legislation to make the program more self-sustainable. The flood insurance rate hikes are much more expensive and onerous than many lawmakers anticipated.
Senate Majority Leader Harry Reid, D-Nev., moved late Thursday to schedule an initial vote Jan. 27 to proceed on the Homeowner Flood Insurance Affordability Act.
The bill would delay by about four years the insurance hikes on primary residences — excluding properties that suffered repeated flooding — that have received "grandfathered" lower premiums. The legislation also would delay the property sale "trigger."
The legislation does not address rate hikes for businesses, secondary vacation homes and homes that repeatedly flooded that were all grandfathered into artificially lower premiums for flood insurance before flood maps were created.
Those policyholders will see 25 percent annual premium increases over a few years.
When asked by The Associated Press, House Speaker John Boehner, R-Ohio, said he opposes taking up the bill in the House if it is approved by the Senate. "We're not going to do that," Boehner said.
Opponents of the legislation contend that it is costing taxpayers their money to subsidize flood insurance for those living in coastal areas or near bodies of water.
In a prepared statement from his office later in the day, Boehner added, "While I don't support repealing the 2012 law, we're listening to members and the alternative ideas they are offering on this issue. There have been ongoing discussions with members, and the House may consider changes to the law in the weeks and months ahead that both help homeowners and protect taxpayers."
Cassidy said bipartisan support is continuing to grow in the House. "I am confident that we will see other gains in the weeks and months ahead, and that congressional leadership will see the wisdom of keeping flood insurance affordable for not just Louisiana, but all Americans," Cassidy added.
Landrieu said, "The bipartisan coalition that supports flood insurance reform is so strong that Speaker Boehner will be hearing this train coming down the track toward him."
She added that once passed by the Senate the legislation would remain open to "reasonable negotiations."
The omnibus budget bill that contained the premium hike delay also had provisions to better fund port and river-dredging projects nationwide and directs increased dollars to the U.S. Army Corps of Engineers. The legislation also requires the Corps to submit a report in 90 days propose alternatives to the Modified Charleston Method of wetlands restoration mitigation that has proven onerous for businesses and flood protection infrastructure projects alike.
The bill also includes Cassidy's EGO Act to eliminate government funding for oil paintings of presidential cabinet members.
The measure also bans the use of federal funds for the inspecting of horsemeat for human consumption, an issue pushed by Landrieu. In essence, this effectively bans domestic horse slaughtering.
One negative for Louisiana, though, is that the bill does not include $700,000 to boost the prospects of Louisiana's Poverty Point State Historic Site making it to the World Heritage List with other such famous sites as the Taj Mahal, Stonehenge and the Grand Canyon.
Back in 2011, the U.S. cut funding to UNESCO after Palestine was allowed to join the organization. Congress has banned U.S. funding to United Nations bodies that recognize Palestine as a state before an Israeli-Palestinian peace deal is reached.
Consequently, the U.S. has not paid dues to the World Heritage Centre in Paris that is run by the United Nations Educational, Scientific and Cultural Organization.
Landrieu had inserted narrowly tailored language into an appropriations bill that added $700,000 only to the World Heritage Program to keep Poverty Point's nomination from being unfairly punished, but some House Republicans refused to accept it for anti-Palestinian political reasons.
Rep. Vance McAllister, R-Swartz, said he unsuccessfully fought for the money to be added.
Lt. Gov. Jay Dardenne also expressed his concerns because the lack of U.S. dues could be used as an excuse to reject Poverty Point.
"We've always felt that if we could get that taken care of it would remove any thought of Poverty Point not being selected because of the dues not being paid," Dardenne said. "I remain hopeful that UNESCO will judge Poverty Point on its merits."